News
Coco Gauff & Women's Pro Tennis Coming to San Jose, California
by Jennifer Spector on Jul 17, 2022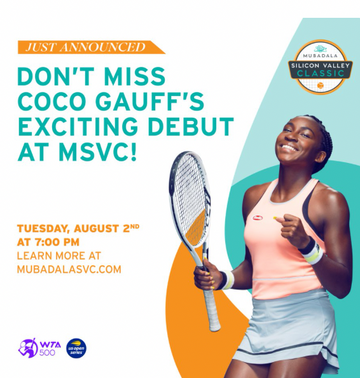 Have you heard of the Silicon Valley Classic - well, check it out.  So many female pros, including Coco Gauff will be hitting the courts and turning up the heat.
Over 50 years of history: 
Co-founded by Billie Jean King in 1971, the Mubadala Silicon Valley Classic is the longest-running women-only professional tennis tournament in the world. Owned and operated by IMG, the Hologic WTA Tour 500-level event is the first women's stop on the US Open Series and features a 28-player singles draw, and 16-team doubles draw. 
Come support these awesome pro players in a beautiful, low key setting.
AUGUST 1-7, 2022
https://www.mubadalasvc.com/tournament_info/?intloc=headernavsub
If you want to shop in person for amazing tennis looks, we will be there as well.
Come say hello.